Autoposter tool XRumer
FAQ about XRumer
|
Create account
|
Price
XRumer — tool for automatic submitting of your articles on forums, blogs, guestbooks, catalogs, wiki and many other engines. In one word — autosubmitter.
Latest version is: XRumer 12.0.6 Elite
---
Main technical characteristics and features of the program
Multi-threading option
The program will fill out forms, following site registration procedures (if it's necessary for creating of new thread). After registering and account, the program will log in and post Your message or link
The program have built-in a proxy checker script. This ensures your anonymity and eliminates the posibilities to get banned by IP on forums. It's possible to use HTTP- same as SOCKS-proxy.
he program is trained to a huge number of known engines: phpBB and PHP-Nuke any mods, yaBB, VBulletin, Invision Power Board, IconBoard, UltimateBB, exBB, phorum.org, wiki, livejournal.com, AkoBook, same as various kinds of bulletin boards, as well as custom engines.
ATTENTION: XRumer uses unique technology — to bypass and avoid any types of captcha and can even defeat most website protection mechanisms that attempt to stop robots or automatic software! Software bypasses easily such protections like:

Graphical or textual capctha like "Enter the number you see". Details...

Protection by activation of link by e-mail. Details...

Protection with some Java-Script used. Details...

also recognize and bypass protection with arithmetic and logical questions


During posting software will create a detailed report with exact link to posted message and it ca be checked each link.
Also is buil-in "Question-answer"
With variation system, is possible to make from 10,000 posted advertisements none of them will be identical, but context remains the same. It helps to make a significant variation in key words (for search engines optimization)
In forum has several sections, the program selects the most appropriate topic for your advertisements, but, if such section does not exist — then will be posted in Offtopic, and other related sections. If there are none of them, then in the most visited section.
It's also possible to edit BB-code
Software includes tools for processing database: removing duplicated links, sorted in descending order of popularity, delete by black-list, different filters
The program inform You about new versions available.
It's possible to use mods (plugins).
This software has integrated in a scheduling system, self-learning system, post-editing, Mass-PM, etc.
The unique system of "Antispam" allows to post thematic "humane" messages on forums according to their subject
The program is fully automatic and does not require user intervention once setup and running. The software will post your messages on forums, blogs, guestbooks, bulletin boards, and social networks around the world. All it requires from you is to provide the text for your advertisement, select your preferred database of sites you wish to target, choose your mode, and simply press the "START" button. It is important to understand, with all these, features of the program are not limited, and it is recommended to use other options of software to maximize the benefits: "AntiSpam" system, "Question-answer" system, "Post editing" system and many others.
At purchase of license you receive not only XRumer but also Hrefer and database of forums, guestbooks and blogs: more than 400.000 checked, uniques and monthly updated.
---
Minimal technical requirements
Windows 98 / 2000 / 2003 / 2008 / XP / Vista / Win 7, 8, 8.1 (as 32-bit, same as 64-bit);
CPU 2Ghz RAM 2GB;
recomemded to use high-speed Internet connection without traffic limit
---
Purchase
The program can be purchased by PayPal, WebMoney, Alipay. But it's also possible alternative payment methods.

The price of XRumer software:
Type of XRumer license:
BusinessStandardLite
+ subscription fee $10 per month.
With XRumer you receive for free:
Hrefer — parser of search engines:
AvailableAvailableAvailable
Buy
---
Screenshot of XRumer interface: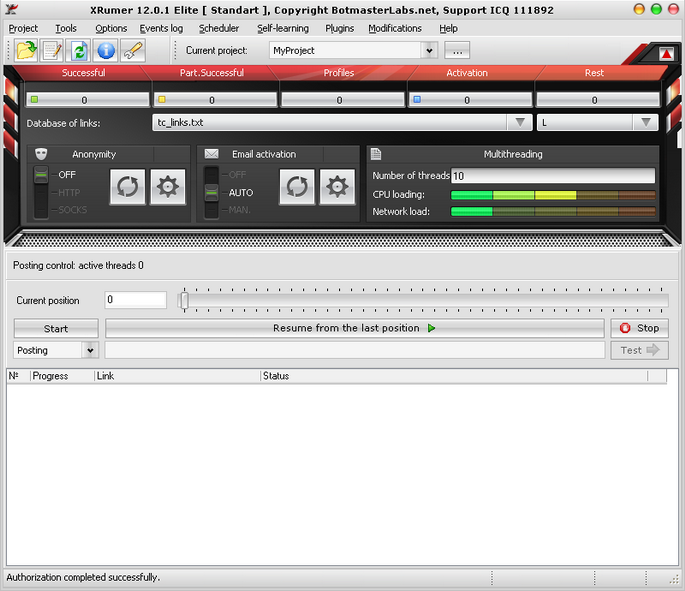 More screenshots:
XRumer 4.0 main window screenshot
,
Advanced options
,
Schedules system
,
Self-learnin system (setting)
,
Self-learnin system (running and results)
,
Creating and editing of project
,
Links analyzer
,
Graphic report — 1
,
Graphic report — 2
,
Links convertor
,
Plugin Wortracker parser + bids checker
,
Skin — 1
,
Skin — 2
,
Skin — 3
,
Skin — 4